Imke - Urban spaces for bees
by Union Investment
Union Investment launched its Imke bee project at 33 locations in 2020. In cooperation with the non-profit association Stadtbienen e.V., two bee colonies were set up in bee boxes at each of the properties. Until today, this number has grown to a total of 66 locations with 132 bee colonies and around 2,2 million bees. In addition, nesting aids for wild bees have been installed at many of the sites.
Giving wings to sustainability

Ecological beekeeping and the well-being of the bees are central to our Imke Project. Therefore our beekeepers only harvest the surplus honey.

Sustainable production

All bee boxes are made by the Berlin workshops for people with disabilities and are made of wood from sustainable forestry.

Nesting aid for wild bees

Since a contribution is to be made to the conservation of all bee species, a nesting aid for wild bees will also be installed at all sites.

Few nesting sites for wild bees

Due to increasing industrialisation and sealing of areas, wild bees are finding fewer and fewer food plants and suitable nesting sites.
The Imke beekeepers
Our bees are introduced to their boxes and cared for by professional beekeepers from the non-profit Stadtbienen beekeeping association.
Before the bees were installed, the beekeepers inspected all locations for suitability. They will also check on our honey bees at regular intervals throughout the year. A beekeeper's tasks include monitoring health and development, treating illnesses and preparing the bees for winter. As part of our ecological and sustainable concept, the bees winter on their own honey. Our beekeepers therefore only harvest surplus honey, which we then gift to our staff, partners or customers.
Moving in- Bees on the roof of the EMPORIO (Video)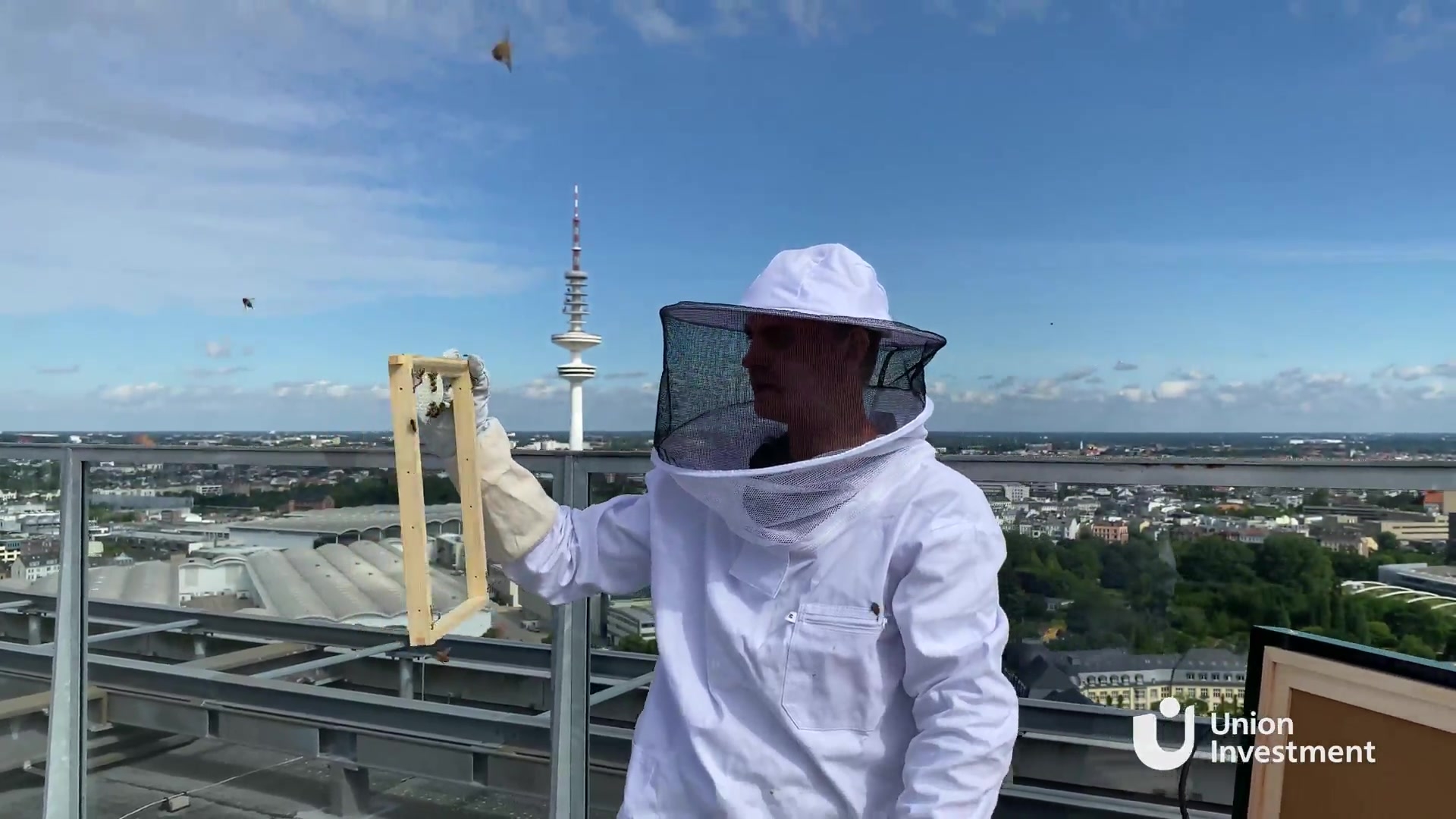 On 13 July, two bee colonies were moved to the roof of the EMPORIO office building in Hamburg's city centre.
Peaceful, hard-working and indispensable
Aside from the importance of bees to humankind, we have a fundamental responsibility to preserve biodiversity, and therefore bees, on our planet. After all, the problems are man-made: agricultural monocultures, pesticide pollution and the spread of the varroa mite due to human intervention are all affecting bee populations. Imke is making a small but important contribution to stabilising these populations in Germany.



Sustainability at Union Investment
In addition to long-term value appreciation, we always focus on the sustainability of our properties and the associated benefits for the environment and society. Germany's building sector is responsible for a good 30 per cent of CO² emissions. The real estate industry thus bears a particular responsibility and its actions can have a positive impact. We are therefore constantly trying to improve the sustainability performance of our properties. Even small steps can make a difference here, such as our Imke Project.
Interested to learn more?